Buddha Bowl Bags!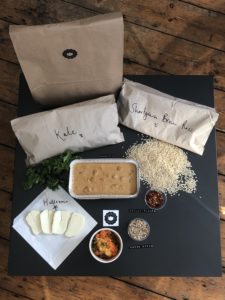 Shop online here for free contactless delivery to your doorstep (select postcodes only):
http://my-site-101777-109477.square.site
Sadly we've temporarily had to stop going to our beloved Whitecross Street Market, but now more than ever, we all need nutritious and lovingly made food so to keep your Thursday and Friday Buddhas coming, we've designed 2 'Buddha Bowl Bags', hand delivered contactlessly, by us, to your doorstep for free!
They contain everything you need to make the equivalent of 2 'Big Buddhas' and will keep for 2 days in the fridge. All you need to do is reheat the curry, boil the dry rice, flash steam the fresh kale and grill the halloumi if you're using it. Full instructions provided and a video coming on Instagram!
Our Buddha Bowls are the winner of Best Main Dish at the British Street Food Awards, the peoples' choice awards at Glastonbury and are a top 3 favourite food at Big Feastival!
They are vegan (without the cheese) and naturally wheat and gluten free and are prepared in our certified home kitchen adhering to stringent new health and safety measures in addition to our usual 5 star practise.
Delivery is currently available on Thursdays and Fridays to EC1, EC2, E2, E5, E8, E9, N1, N7, NW1, NW5 and NW3 (between 08.30-13.00). Please specify in 'note to seller' at the end of checkout which day you prefer and do email with other area requests!
We just hope you're all safe and well. We're missing you so much but can't wait to see you when we can get back to the market and for now really hope you enjoy these!
Big love, Charlie and Dave xxxx