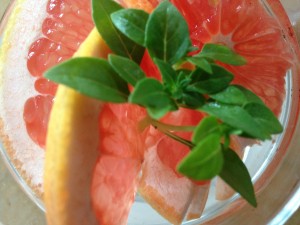 So fresh and so simple to make. And it looks so pretty! We really can't resist anything with pink grapefruit in it and this drink was perfect on a recent hot and sticky day.
Makes 2 large glasses:
2 pink grapefruits
Ice cold sparkling water and a few ice cubes if desired
1 small handful Turkish or regular basil, roughly chopped but save a few sprigs for garnish
Brown sugar/agave – optional, to taste
Chia seeds – optional
Juice one grapefruit and divide it between two glasses. Cut the other grapefruit into half moon slices and leave to the side for garnishing later.
Add half of the chopped basil to each glass and, if using them, also add 1 tsp of chia to each glass and a little sweetener. Mix and add ice cubes if you want it really cold.
Top with sparkling water, mix again, check the sweetness, adding more sweetener if desired and garnish with grapefruit slices and the sprigs of basil.