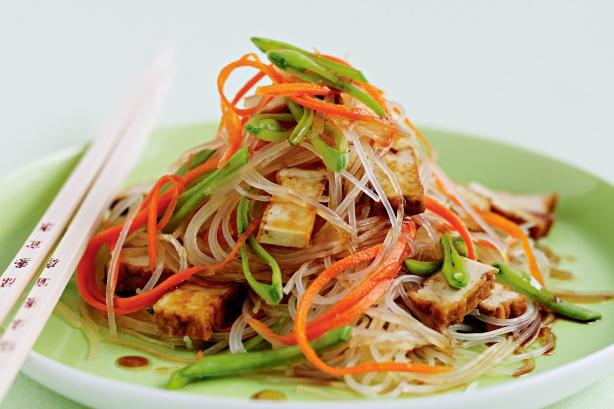 This quick and easy vegan glass noodle salad is one of our absolute favourites. It's perfect for a light lunch or dinner and is absolutely packed to the rafters with all the colours, flavours and vibrancy of South East Asia. The smoked tofu, mixed sprouts and seeds are ingredients that we use all the time to make sure our dishes have plenty of protein. So, here's our quick and simple guide on making this delicious dish.
Serves 2 / Vegan, Wheat & Gluten Free
You'll need the following:
125g glass noodles (rice vermicelli), dried
1 carrot, cut into thin strips
100g mange tout, cut into thin strips
30g coriander, picked
Juice of 4 limes
2 clove garlic, finely chopped
40g ginger, finely chopped
1 red chilli, deseeded and finely chopped
3 tbsp brown sugar
10ml tamari
150g mixed sprouts (eg mungbean, chickpea, lentil)
sesame seeds, lightly toasted
100g smoked tofu, thinly sliced
Step 1
In a bowl, pour boiling water over the glass noodles and leave to soak for 4 minutes. Strain and then, under the tap, allow cold water to pour over the noodles until they have cooled down. Make sure they're fully strained and then leave to one side.
Step 2
To make the dressing, in a pestle and mortar, crush together the garlic, ginger, chilli and sugar until they resemble a paste. Add the lime juice and tamari and stir.
Step 3
In a large bowl add the carrot, mange tout, coriander, sprouts, smoked tofu and noodles.  Gently mix together by hand before pouring over the dressing and then continuing to mix by hand until the dressing has been well incorporated. Sprinkle over the toasted seeds and serve.